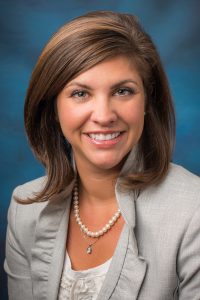 Lacey Dellinger

Director of Customer Solutions
Lacey Dellinger joined Exacto®, Inc. in 2018 with 12 years of technical and commercial business development experience in the chemical industry. She brings her strength of executing strategic plans to Exacto®, Inc. as the Business Leader in Agriculture. Most recently, she managed the North American agrochemical business for Ingevity, where she developed a passion for sustainability in the agriculture.
Prior to Ingevity, Lacey established a track record of success as a global strategic account manager for Milliken Chemical, focused on specialty products within the industrial  and household cleaning markets. She graduated cum laude from Wofford College with a B.S. degree in Chemistry and minor in Art History.
Lacey spends much of her free time with her husband, three year old son and their family dog engaging in their community around Davidson, North Carolina where they currently reside. She is active in her church and has held multiple leadership roles in the Association of Junior Leagues International and the alumni association of Zeta Tau Alpha.
Whenever possible Lacey enjoys discovering new cultures internationally, being outdoors and channeling her inner creativity in her art studio.