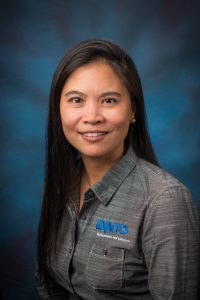 Nongnuch Sutivisedsak

Manager- Research, Development, & Innovation
Prior to coming to USA in 2003 for her Ph.D, Nuch was the R&D Supervisor at ARS Chemical in Thailand. She was responsible for the development and manufacturing new and improved household insecticides, air-fresheners and personal care products. While at ARS, Nuch supervised the implementation of Good Manufacturing Practices (GMP) for the entire company.
Nuch holds a Ph.D in synthetic organic chemistry from University of Missouri-St. Louis (St. Louis, MO), and B.Sc and M.Sc degrees in organic chemistry from Chulalongkorn University (Bangkok, Thailand). Her graduate research involved synthesis of α-hydroxy and fluoro phosphonates and cyclic ether-containing natural products.
After completing her doctorate, Nuch joined USDA in Peoria, IL in the Renewable Product Technology and Plant Polymer Research units. Her research at USDA involved the development of the technology to utilize crude schizophyllan (corn-derived polysaccharide used in oil recovery) rather than the much more expensive, highly purified and commercially available schizophyllan. Additionally, she developed non-tradition applications of dry edible beans for new markets by pursuing strategies common to corn and soybeans, i.e., processed foods and industrial applications. She also developed composites of polymers derived from agricultural residues and surplus commodities such as nut shells, cotton hulls and cotton burr for green value-added applications.
Prior to joining Exacto®, Inc. in 2018, Nuch was a R&D manager at WinField United with the responsibility of developing novel and innovative crop protection products. In addition to this role, she manages and oversees daily laboratory operation
With Exacto®, Inc., Nuch is a Research, Development and Innovation Manager, responsible for research, planning, and implementing R&D programs and protocols and overseeing the development of new products and improving the existing products. She leads, manage budget and allocate resources for all research development works in the development pipeline and responsible for the successful initiation, planning, design, execution, monitoring, controlling and closure of all projects.